" Immediately I felt inner peace, freedom and alignment."

I have been in the healing industry for 20 years and what I experienced in a New Decision Therapy Introductory session showed me that Lynn is definitely a pioneer in her work. I tried it out of curiosity and because I suspected there was something deeper in my way.

Lynn supported me in diving deeper into a part of me that I thought I had addressed and moved forward from.

I loved how the process utilized my body to provide feedback and allowed me to address hidden aspects of myself that I had held onto and not yet fully forgiven.
Immediately after finishing the session I felt inner peace, freedom and alignment. My face was glowing and looked years younger, literally right after the session!
Thank you so much Lynn for the work you do!
Tammy Cho
Body Whisperer | Self Love Embodiment Guide
---
" I have forgiven my past self and welcomed in deeper levels of self-love."
I could write a novel on all the wonderful things the processes I have experienced with Lynn have done for me, but the simplest is that they work.

She uses truly unique interventions to clear away past traumas and remove false self-perceptions that are based on fear and old stories.

As a result, I have created a whole new reality for myself and have made many new empowering choices.

I have forgiven my past self and have welcomed in deeper levels of self-love that have empowered me to make many consistent, positive changes.
I now see myself through a new lens.
Getting to know myself at a deeper level - with Lynn's solid, unwavering support - has helped me to improve my relationships with the people closest to me, as well as the relationship I have with myself. She has also helped me to develop the vision and drive to create the life of my dreams.
Thank you, Lynn!
Kathy T.
Teacher, Writer, Health Advocate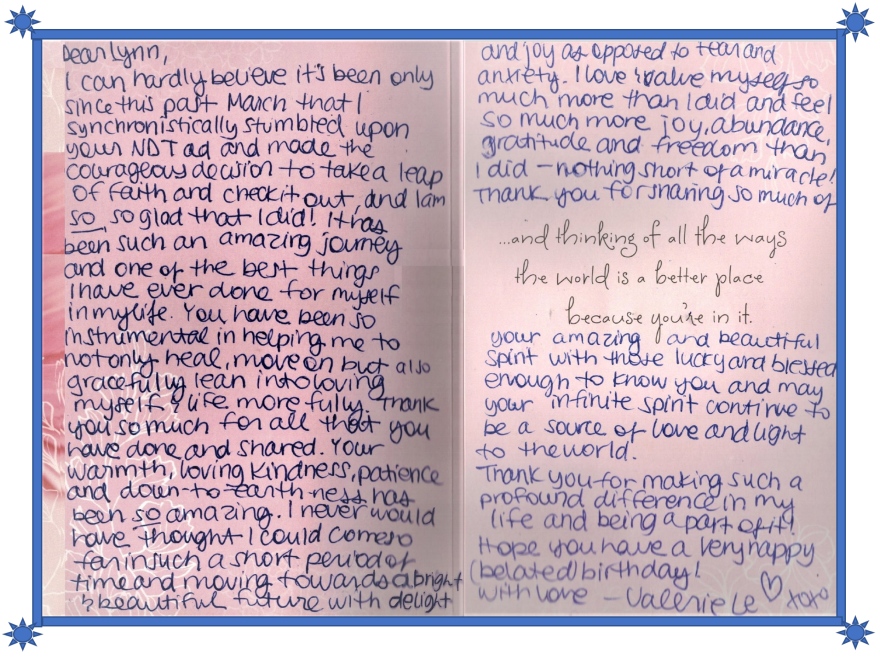 " . . . one of the best things I have ever done for myself . . ."
I can hardly believe it's been only since this past March that I synchronistically stumbled upon your NDT ad and made the courageous decision to take a leap of faith and check it out, and I am so, so glad that I did! It has been such an amazing journey and one of the best things I have ever done for myself in my life.
You have been so instrumental in helping me to not only heal, move on but also gracefully lean into loving myself and life more fully. Thank you so much for all that you have done and shared.
Your warmth, loving kindness, patience and down-to-earth-ness has been so amazing. I never would have thought I could come so far in such a short period of time and moving towards a bright and beautiful future with delight and joy as opposed to fear and anxiety.
I love and value myself so much more than I did and feel so much more joy, abundance, gratitude and freedom - nothing short of a miracle!
Thank you for sharing so much of your amazing and beautiful spirit with those lucky and blessed enough to know you and may your infinite spirit continue to be a source of love and light to the world.
Thank-you for making such a profound difference in my life and being a part of it.
Thinking of all the ways the world is a better place because you're in it.
With love xoxo
Valerie Le
Career Confidence Coach