Laughter really is the best medicine!


It's a fabulous remedy to mitigate stress, anxiety, overwhelm, sadness, depression, and
works wonderfully to buffer relationship tensions.

The only thing is, like anything else in life, if you haven't been flexing your laughter muscles
everyday, you may discover they've atrophied, or gotten terribly weak and ineffective.
That's where Laughter Yoga comes in. Developed by a medical doctor, it first began in a park
in Mumbai, India with just 5 people, and has now spread to 110 countries!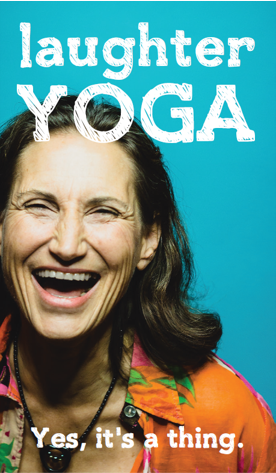 Laughter Yoga has come into it's own.
It really is 'a thing'!

And if you're not taking this way of laughing
seriously yet . . . hahahaha . . .
you're missing out on a whole lot of fun and
a whole lot of payoffs!
So come on board.

As Charlie Chaplin said:
"A day without laughter is a day wasted."
There are so many rewards you'll get to enjoy when you decide to stretch your experience of laughing beyond the ordinary.

Come join us for classes, a workshop, or a training.
To inquire about setting up a class, workshop, or training for your group or organization call 1-416-469-2033 or email forgiveandlaugh@gmail.com
At the end of a Laughter Yoga session participants report feeling:
alert, awake, and energized
contented, connected, and peaceful
deeply relaxed and free of anxiety
present, happy & on a natural high

Countless people worldwide have already embraced Laughter Yoga,
a simple, yet revolutionary way of increasing joy and happiness,
AND improving your physical and mental health, just by making a
point of laughing everyday without depending on jokes or humour.
We call it Unconditional Laughter.
Even 100 years ago, the philosopher William James emphasized that
engaging in laughing BEFORE we feel happy is the secret to finding
our way there.